A visit to JD.com's cold storage
发表时间:2018-08-16
【TMTpost Image seeks to accurately record those individuals in the era of Internet. TMTpost owns the copyright of all images, texts and videos. Any unauthorized use or reproduction of these documents in any form or means is prohibited. Otherwise, TMTpost reserves right to pursue legal responsibilities.】
When we struggle in the hot summer, some people in heavy winter jackets are warming themselves in a high temperature of 32℃. They have to experience a temperature difference of 50 degrees after coming out of a cold storage.
TMTpost Image recently visited JD Logistics' cold storage. This freezing cold (-18℃) storage is the most important part of JD Logistics' cold chain. Pickers push carts and run in the warehouse back and forth, driving fast deliveries on the cold chain.
August 2, 2018, JD Logistics fresh products cold storage located in Majuqiao Bridge on the South Sixth Ring Road, Beijing. The freezing temperature (-18℃) has covered a fully clothed picker's hat and eyelashes with frost.
There is a door with sensor between the frozen area (-18℃) and the refrigerated area (5℃) in the storage. After order pickings, workers send the carts to the refrigerated area for rechecking and packing. The frozen area's door lintel and ceiling are covered with frost due to the meeting of cold and warm air.
The surveillance camera on the frozen area door is also covered with thick frost.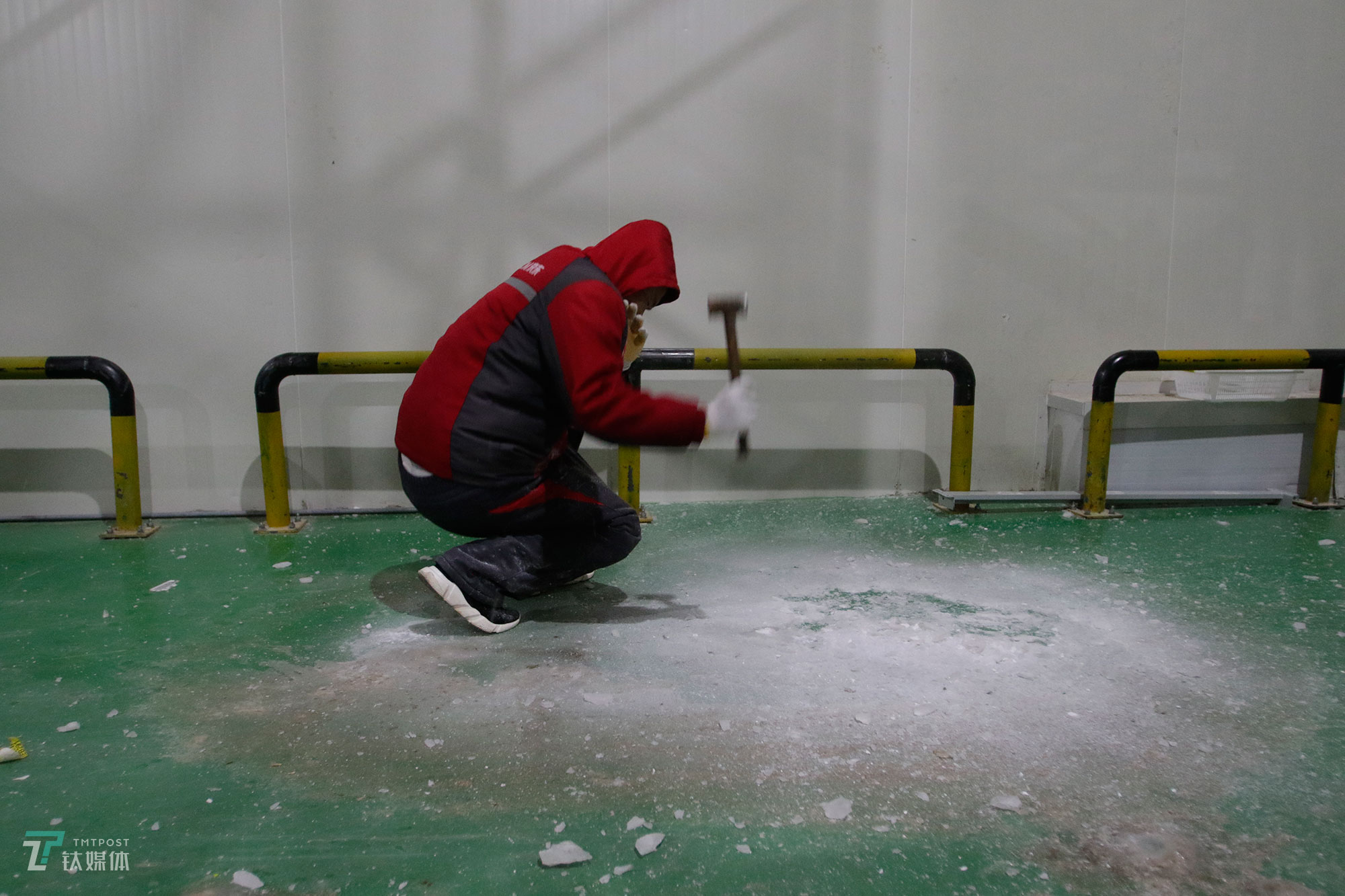 Water dripping from the ventilating system turns into ice at the temperature of -18℃. To prevent the pickers from falling down, a worker breaks the ice with a hammer to clean the ground.
Order picker Zhang Xiujing is pulling a cart and running back and forth between the shelves. JD Logistics has over 10 cold storages across the country. Its fresh produce cold chain delivery has covered over 300 cities, and the storages can handle one million orders daily on average. The cold storage in which Zhang works mainly supplies North China areas.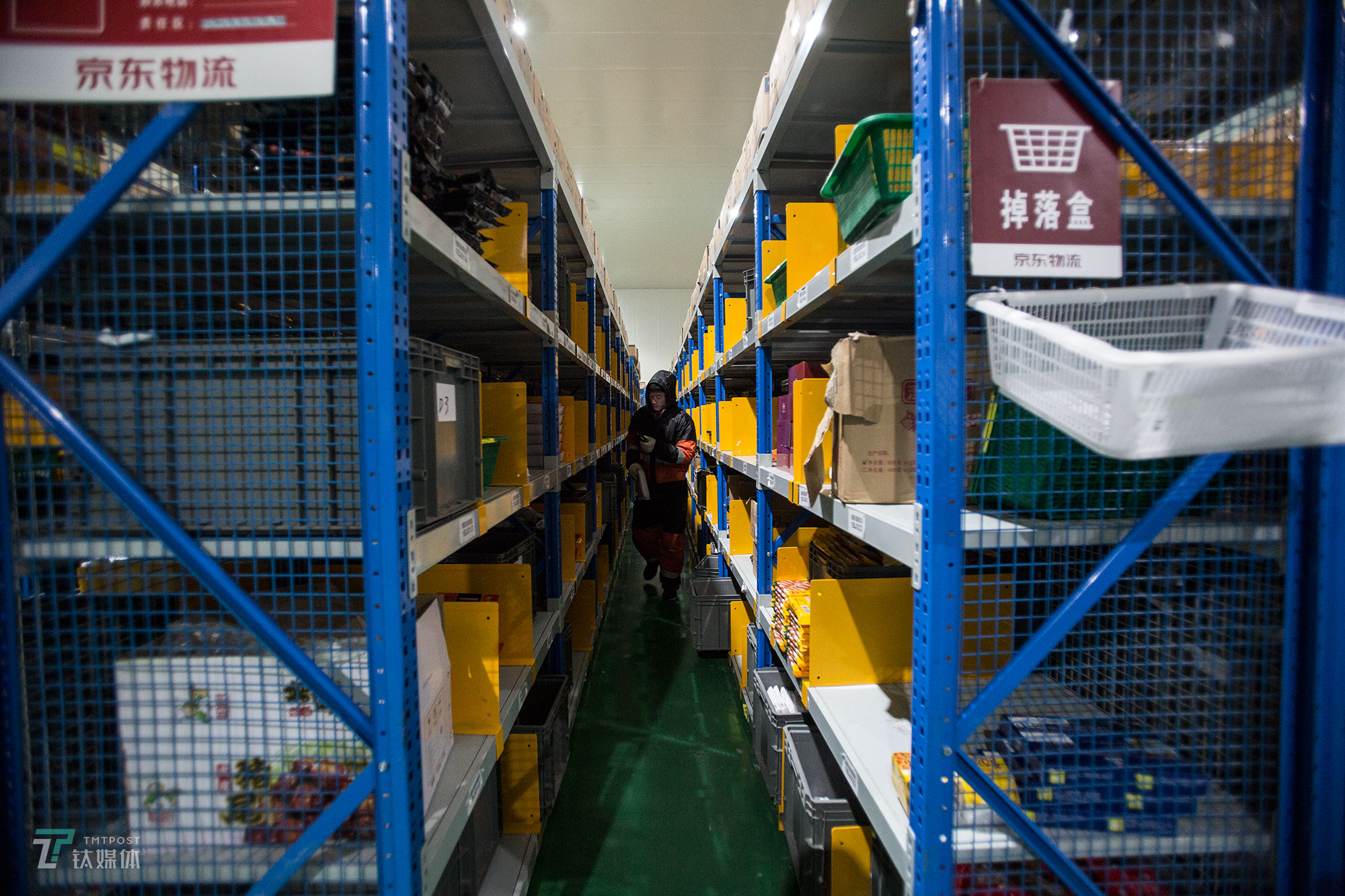 Zhang knows the storage very well. He can easily find the ordered goods in the 10,000-sq-meter warehouse at the fastest speed.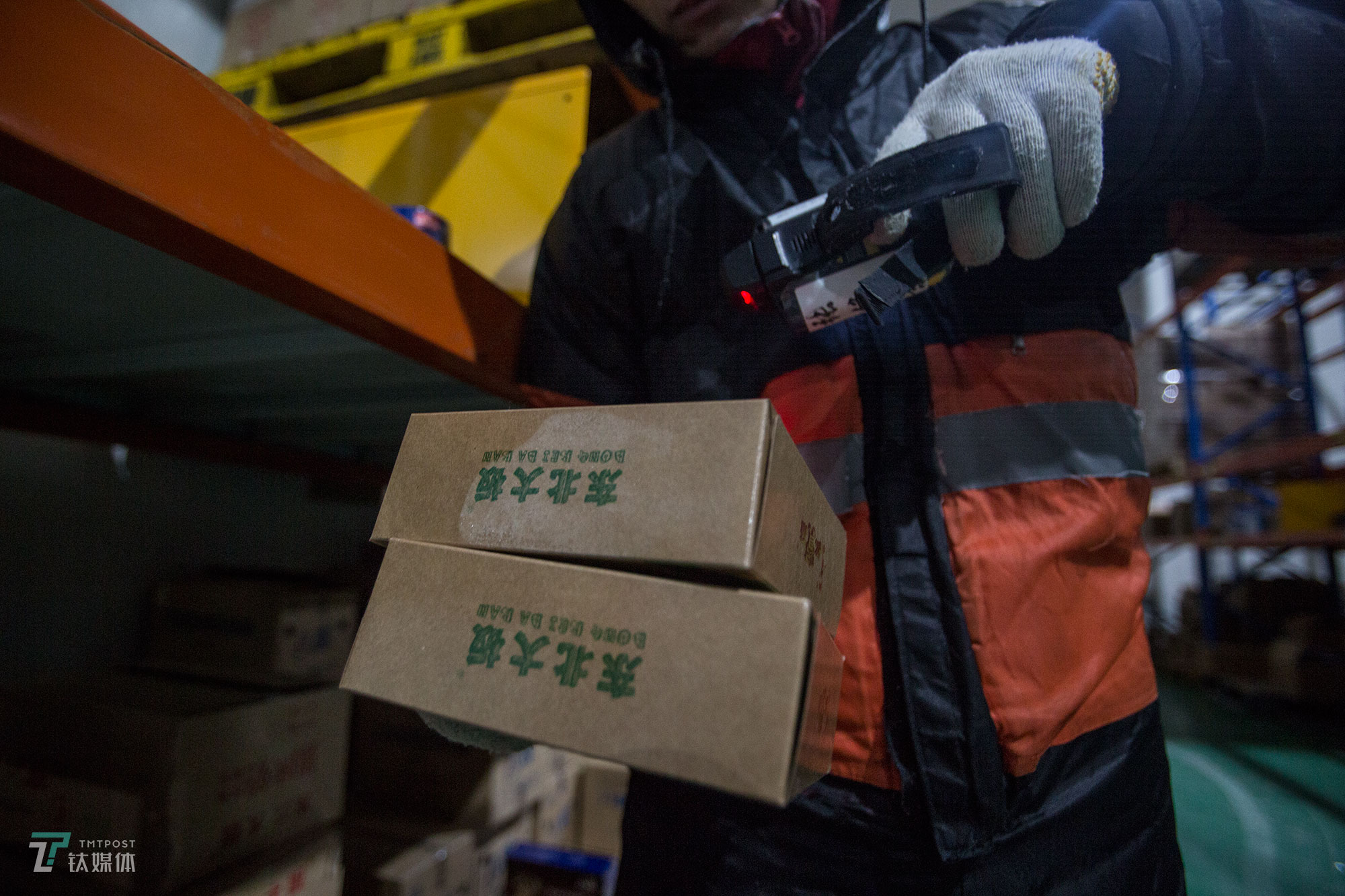 Zhang picks boxes of ice cream.
Frozen kebabs and chicken paws in cart for packing.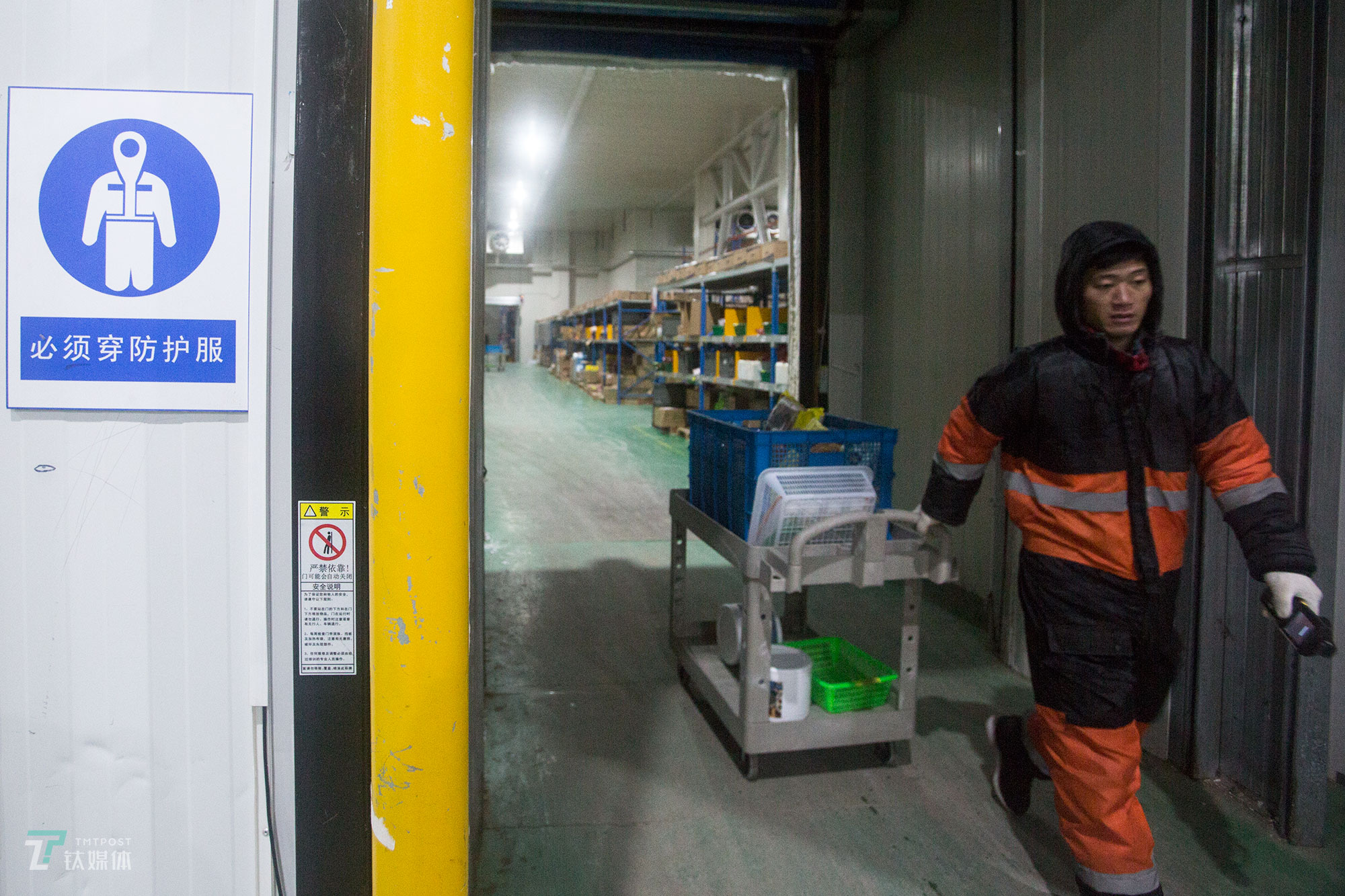 Zhang has worked in the storage for less than one year. He was not used to such working environment until he caught a cold and recovered when he joined.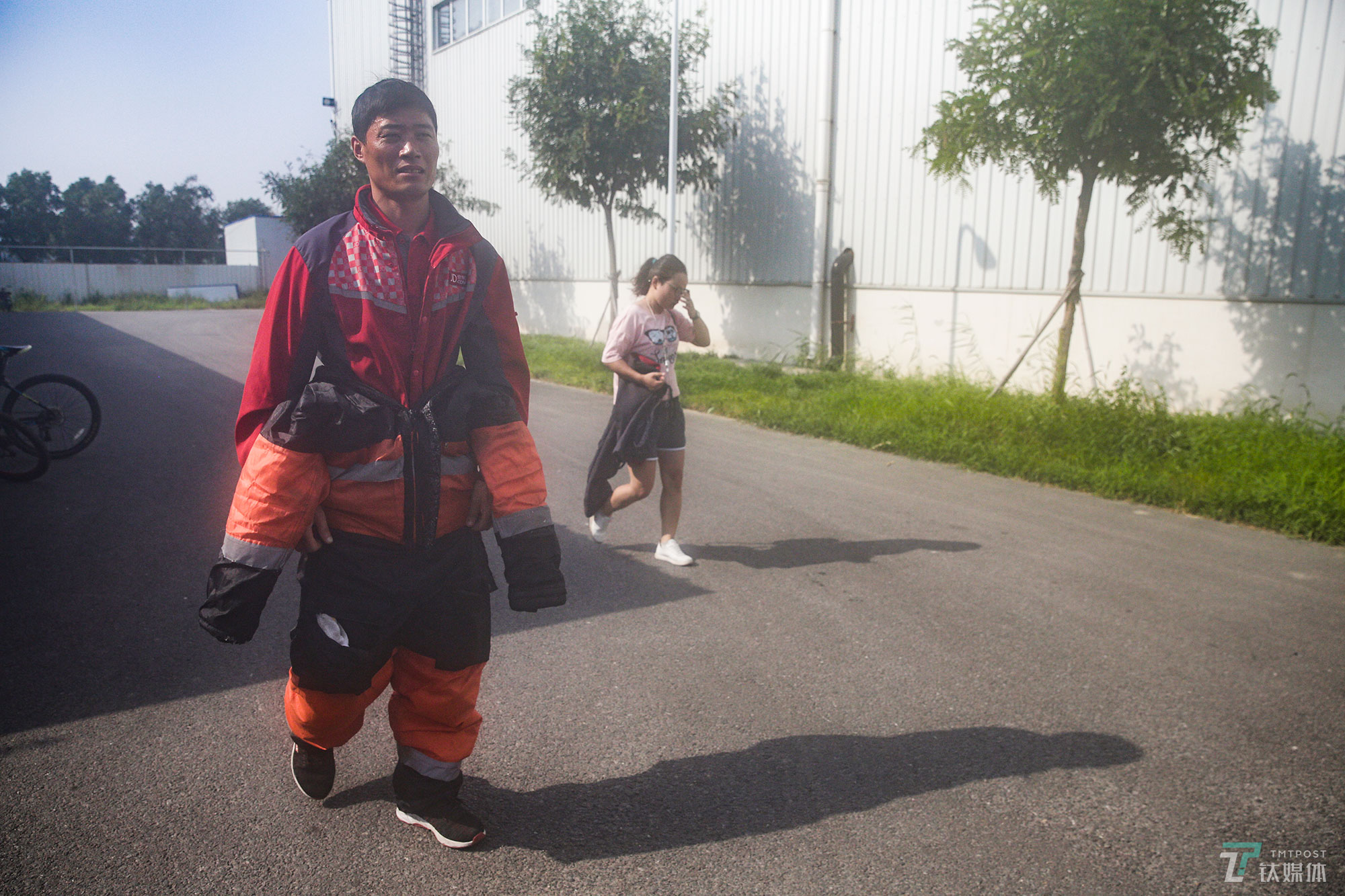 Order pickers can take breaks based on their work situation. Zhang comes out of the storage two or three times a day to warm himself, for about ten minutes each time. The temperature in Majuqiao Bridge area in Beijing once reached a high of 32℃ on August 2. Due to a temperature difference of 50℃, Zhang couldn't immediately take off his heavy work uniform.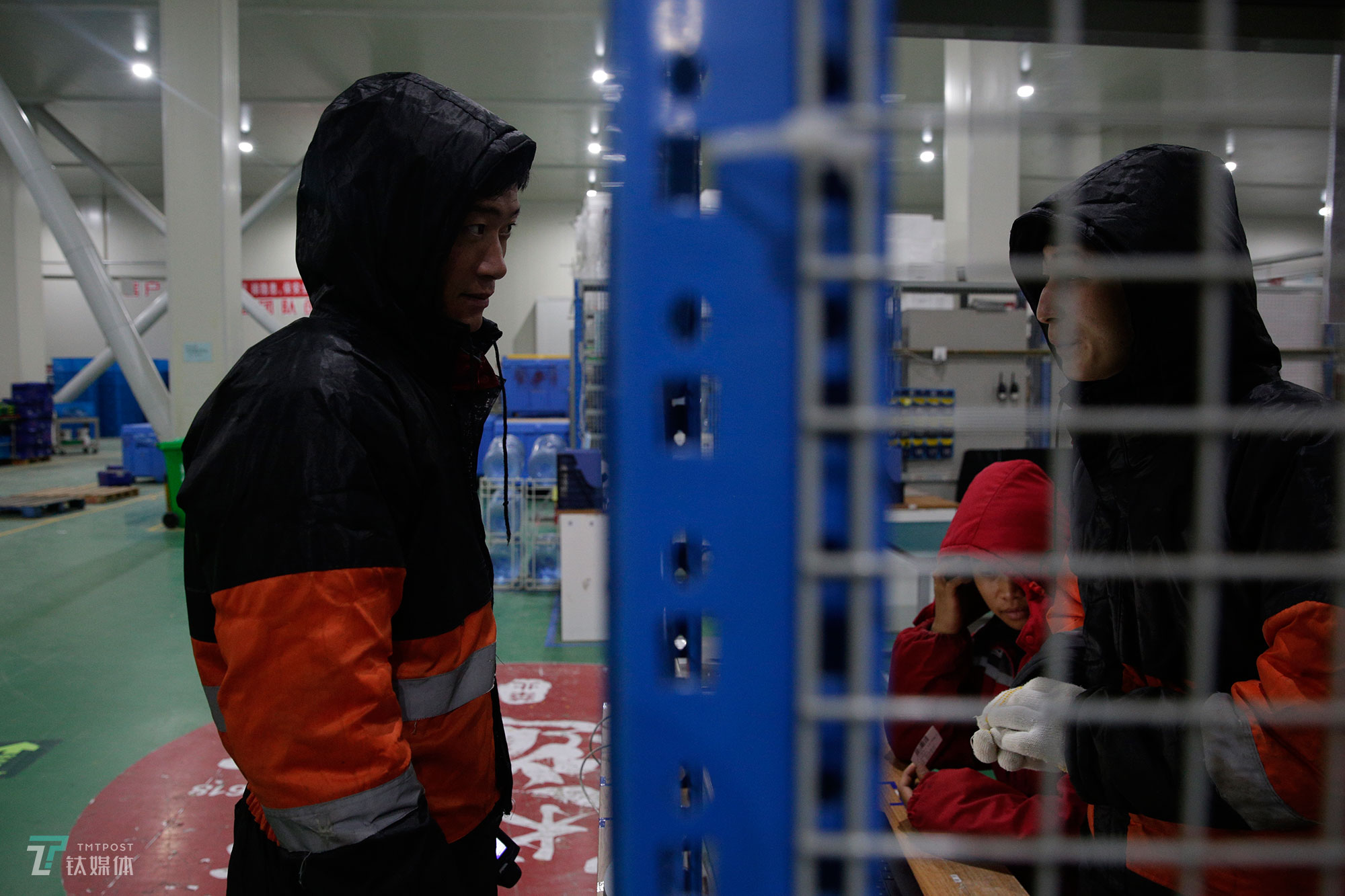 Zhang talks with a coworker. Both Zhang and his wife work at JD Logistics' cold chain department, leaving their kid with their parents in hometown. The company offers social insurance and housing fund and even dorms for couples like Zhang's. He'd never enjoyed such benefits in his previous jobs.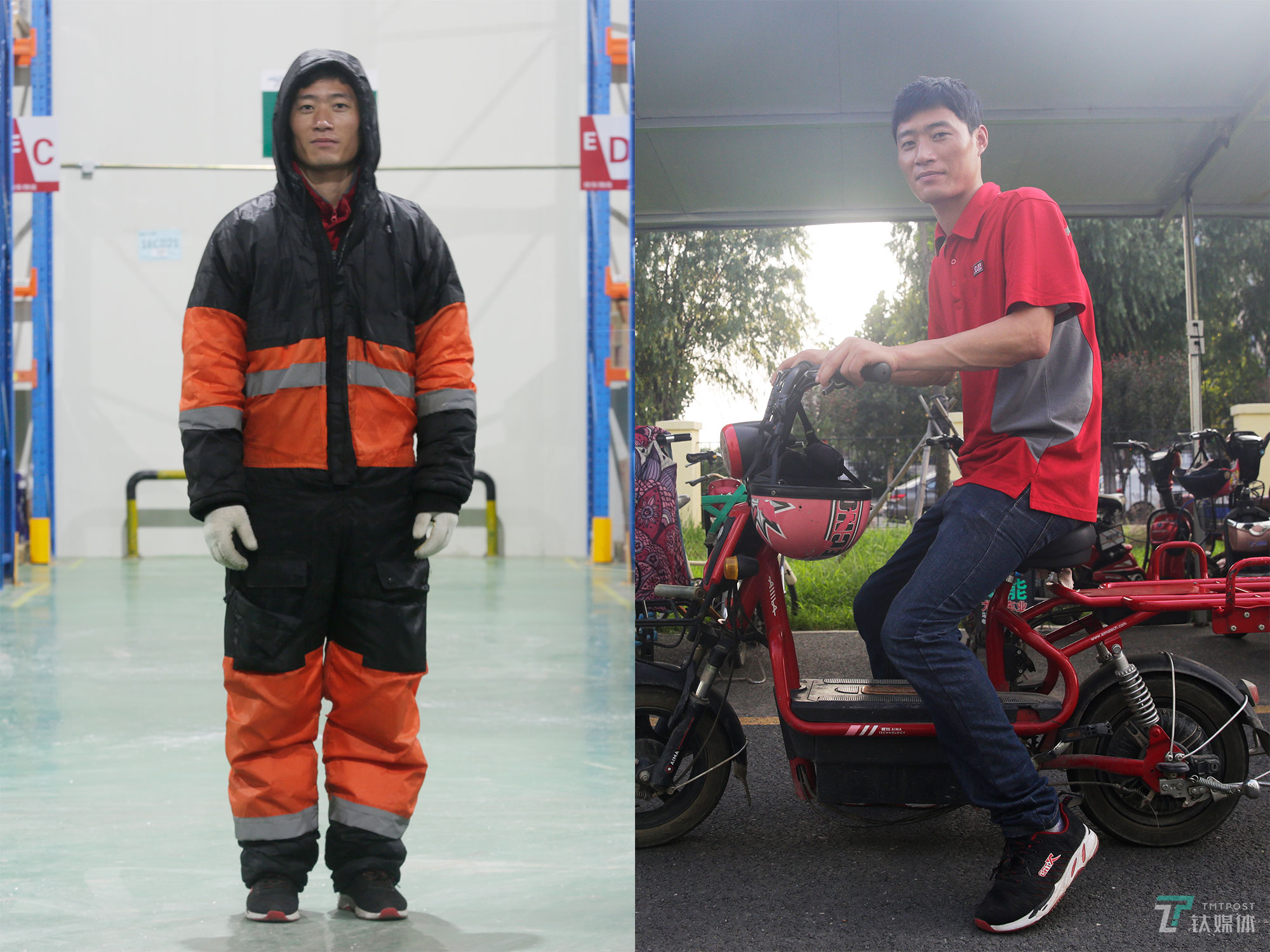 Zhang must be fully clothed at work (left). For him, riding a scooter home in regular clothes after work is the most relaxing moment of the day. "I like winter more, because it's relatively comfortable when working with no much temperature difference," Zhang says.
【TMTpost Image seeks to accurately record individuals in the Internet start-up tide. The images are real but cannot tell all. The images are free but also can be a trap. In the era of "online," let's discover more……】
------------------------------------
The Chinese version article is published with authorization from the author @Zack Chen. The English version is edited by @Yi LIU (Email: yiliu@tmtpost.com; Mobile/WeChat: +86 13911703028). Please note source and hyperlink when reproduce.
Follow us now on Twitter @tmtpostenglish, Medium @TMTpost and Facebook @tmtpost)